Participant Feedback Results
Our participant feedback survey has been up for over a month now, so we wanted to share the results with you that have, quite honestly, put a huge glow in our hearts.
We have 95 responses so far, which is a 22% response rate. Not too shabby at all, and certainly enough to start making some good conclusions from.
TL;DR version
We all loved Hyperborea. Like. A lot. 97% said you felt welcome at Hyperborea, 88% of you gave it a 4+ out of 5 on the likey likey scale and 80% said they'd volunteer next year. That's staggering and makes us a very happy bunch of organisers that are keen to make it even better next year!
Some of our favourite suggestions for next year:
More pre-event newbie/arting/idea-sharing nights
Less Beavers
City zoning for sound camps
Possibly our favourite of all was this comment about how this tricky situation turned into an incredibly inclusive experience for him and his young daughter https://www.facebook.com/events/1646550448981111/permalink/1692978671004955/?ref=1&action_history=null
The Details!
When was your first time?
We had quite a lot of newbies at the event with over 23% reporting it was their first ever Burning Man related event and a good spread of people going to events all the way back to 1999.
How much did you like Hyperborea?
Like a lot.
How did you find out about Hyperborea?
While I would like to take personal responsibility for the 1 person that found out via me, it seems that friends in the community is the biggest way people found out about the event, with the next most popular route being facebook. So a big thank you to people that told their friends and convinced them to come and join the adventures!
Volunteers
A large percentage of respondents were volunteers, which is amazing, even more amazing is that (nearly) everyone said yes or maybe to volunteering again next year. That is a great sign for even better things to come next year and we're excited to work with the 150+ incredible volunteers from this year again.
How did you camp?
It looks like a very large portion of people camped with theme camps, even the two rogue theme camps that set up in open camping. It explains why there was so much going on all over the place and we'd love to see this continue next year.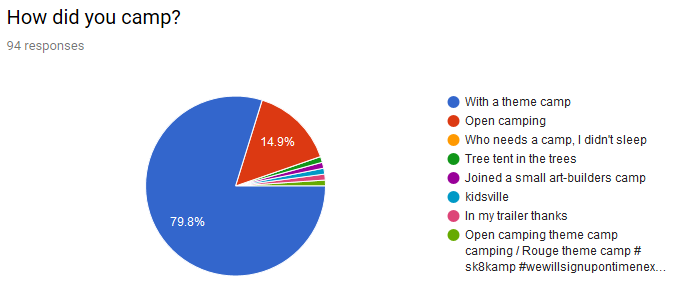 Where did you get your ticket?
Unsurprisingly, most people got their tickets from Universe, but much love to the 3 gift tickets that people received!
Did you feel well informed?
From a personal perspective, I thought we had a lot to improve on our pre-event comms, but I'll take this as a sign that we did pretty ok
How do you prefer to be contacted?
Fire breathing dragon came in a solid third place here, well above putting stuff on a website, but it seems that email and facebook are the firm favourites. We will definitely be finding a better medium than the Universe ticketing system for those comms next year.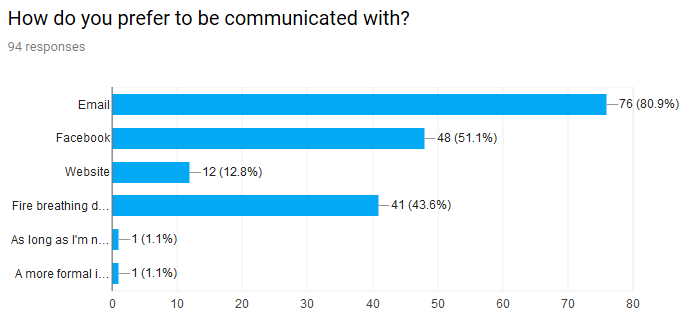 Arrival and Departure
It looks like most people left Toronto either after lunch or after work on Friday (peak time for arrivals was around 3pm and again from 8-10pm). This was pretty much what we expected, so we hopefully had the Gate and Greeter shifts covered well for those times.
Departure times were a bit of a mess due to Beaverpocalypse, but yay for the last of the crew leaving at midnight on Monday!
Where did you stop on the way?
Looks like both Napanee and Tamworth saw some good burner business, which is great to know we're supporting some local businesses.
Carpools
Most people car pooled with at least 2 people in each car – good work team!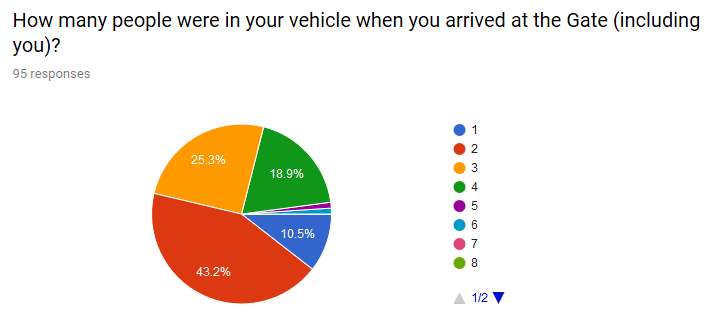 Where ya from?
While we were expecting a predominantly Toronto crowd to show up, almost 30% of our respondents were from elsewhere with Montreal, Ottawa and Hamilton taking up 19 of the 30%.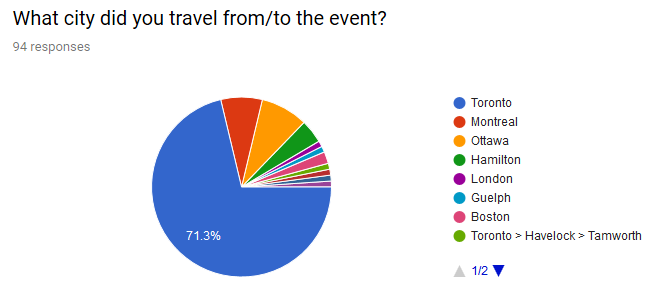 The 10 Principles
We strive to include the 10 principles in what we do and we're happy to see that's important to our respondents too. Although only about half the people that responded to the survey reported having difficulty practicing the principles, those that did said Decommodification was the hardest one to practice. I find that very interesting – as organisers it sounds like we may have some influence to help people practice that…but how? What were the things people struggled with decommodifiying?
Why did you go?
I find this one really fascinating (apologies for the chopped off descriptions). As we saw most people heard about Hyperborea via their friends, it's not surprising that most people were also there to be with their friends, but the next few reasons make me happy:
To play and experience freedom (56.4%)
To escape the world for a time (48.9%)
To create/work on a project (46.8%)
To see/experience art (43.6%)
Did you feel welcome?
This is by far my happiest response of the whole survey. This is the result of everyone being welcoming and warm and makes me incredibly happy. Congratulations everyone!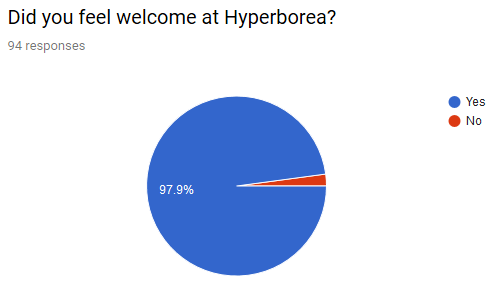 Why didn't people go?
The biggest reason people's friends didn't come was due to lack of tickets and a general dislike of dirt/bugs/camping/port-o-potties. I'm not sure we can really fix the second issue, but now we've got the groundwork in with volunteers, we're keen to add some more tickets to next year's event to allow more people to participate.
Some Conclusion and Thoughts
It seems like there were a lot of great things at Hyperborea and to say we're happy with the results is a huge understatement – it's incredible seeing what we envisioned happen and making so many people happy.
Of course we're keen to see how we can make it even better next year, and these questions are ones that have occurred to me, but what are your ideas and suggestions?
How do we encourage more people to volunteer?
How do we get people trained for the volunteer positions that require it? (Rangers, First Aid, Sanctuary, FAST)
How do we encourage more art to happen?
How do we encourage more theme camps to form?
What was it that made people struggle with practicing decommodification?
What should we have asked in the survey that we didn't?
Feel free to let us know your thoughts by emailing leads@tohyperborea.ca or letting us know in the Hyperborea facebook group – https://www.facebook.com/groups/145939082634753/