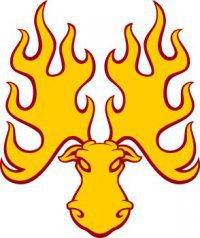 mOOSeman 2014
Thursday, July 31, 2014 at 6:00 PM – Monday, August 4, 2014 at 4:00 PM (ET)
This year's mOOseman weekend is set to take place in a partly forested and open terrain area on private property near Minden, ON. Our site this year is beautiful, and will include a 30' diameter rock formation fire pit with access to a public beach approximately 5 km or a 5 minute drive from the site with the possibility of on-site water access. Tickets may be purchased by pARTicipants 19 years of age or over via the Eventbrite link above and in-person at drink nights sales starting the week of May 18, 2014. See below for a note below for policies with regards to children.
Early Bird ticket = $60 (on sale from now until June 15th )
Early Bird + $10 Donation to BRAF = $70 (on sale from now until June 15th)
Regular tickets = $80 (on sale until July 30 at midnight)
Regular + $15 Donation to BRAF = $95 (on sale until July 30 at midnight)
$10 Discount codes will be given to all event leads that step up
To purchase online visit: http://mooseman-2014.eventbrite.ca/
Note that ALL admissions are on-line 'will call' tickets.
There will be limited number of Low Income Tickets available.
PLEASE READ CAREFULLY
This event adheres to these 10 core principles:
http://www.burningman.com/whatisburningman/about_burningman/principles.html#.U54_I_lhxjI
Volunteering
An event of mOOseman's magnitude needs many hands and minds to come together to be a success. Given the scale of this year's event, it is critical that all pARTicipants volunteer to assist in some capacity to make the event a success.
We're all volunteers so why not join the fun of working to make the event happen?
Email campwarhol@gmail.com NOW to get involved and watch for news, updates and call outs from the Team Leads who need YOU! Even a couple of hours of your time before or during the event will make it run that much better. Volunteering is also a great way to meet or get to know our community pARTicipants better.
Art & Art Grants
BurnT is committed to supporting and funding where possible interactive, collaborative, community art. We welcome all pARTicipants to create art at mOOseman that will enhance our collective experience. This is your chance to satisfy a deep soulful desire to create and share your work with others in a non-judgemental, supportive, an inspiring environment! Be creative, think outside the box and tell us your vision! Together, in all modalities of artistic self-expression, we create the magic that is mOOseman! Please email to burnon.artgrants@gmail.com to request and submit an art grant application. I encourage all new people who have never put in a art grant to do so!!
YOUR pARTicipation
No advertising, commerce or spectating. Mooseman is about pARTicipating and respecting the 10 principles above. We're not about promoting commercial or political causes, participating in commerce, or showing up to be entertained. Bring yourself to the event and make mOOSeman 2014 a success by getting involved.
General Camping Area
The camping is gorgeous with a versatile terrain, which includes a small central crevice that is nestled between two forested hills, circling back to a majestic stone fire pit. In keeping with the natural beauty, minimal camp structure is encouraged in this area. Generators are strongly discouraged. Fires and all sources of open flame may be banned in the general camping area, depending on regional conditions. This is real camping: electricity and potable water will not be available in the area. Foodstuffs and organic refuse should be kept locked away, thereby not encouraging camp invasion by wildlife. There is a public lake with swimming a short (5 km) drive away.
In & Out Policy
Site in and out access for cars will be restricted during the weekend due to space restrictions. Please email campwarhol@gmail.com if you will require in/out privileges.
Fire & Fireworks Policy
Fires are entirely dependent on environmental conditions and local burn policy. Fireworks are NOT permitted at the event. Weapons are NOT permitted at the event.
Children
The leadership team is currently working with a parent committee to include children in some capacity at Mooseman. We will announce our policy with regards to this next week – week of July 4th. Please email mooseman.toronto@gmail.com if you have any questions/concerns/points to make about children attending this event.
Pets
Requests for pet admissions will be considered on a per-case basis to the leadership team. Please email mooseman.toronto@gmail.com with a statement of the pets character as well as a management plan for the pet or if you have any questions/concerns/points to make about pets attending this event.
Leave No Trace
Our community respects the environment. We are committed to leaving no physical trace of our activities wherever we gather. We are all expected to clean up after ourselves and endeavor, whenever possible, to leave such places in a better state than when we found them.
Note: All admission sales are * FINAL* – There may be LIMITED tickets for sale at the gate IF we are not sold out. TIckets at the Gate are $100. Your fees must be paid and you must be registered. Only registered pARTicipants will be admitted. Ticket purchasers must be 19+ – All pARTicipants must present valid government issued photo ID with a name that matches their registration name on the Will-Call list prior to entering the event venue. – All pARTicipants must sign a waiver and release prior to entering the event venue. – No commerce – No fireworks – No weapons.
**Admissions may be transferred up to the last day of admission sales (July 30, 2014) WITH notification to the event organizers of the transfer AND submission of the new buyer's name and email address.
Email campwarhol@gmail.com for transfers.
PLEASE email campwarhol@gmail.com if you have any questions.