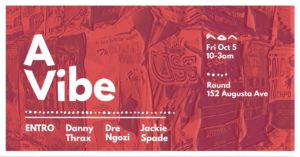 A VIBE – Tarna the Art Car fundraiser
Friday, 5 October 2018 from 22:00-03:00,  ROUND venue (152a Augusta Ave.)
"A Vibe" is a shared feeling. Come celebrate community, positivity, and the electricity between all of us on the dance floor.
We have a killer lineup of DJs, all in the eternal and unifying spirit of house and techno music.
10-12: ENTRO (Nathan Kelly)
12-01: DRE NGOZI
01-02: DANNY THRAX
02-03: JACKIE SPADE
All proceeds from this event will go to Tarna the Jackalope, an Art Car being built for Spring 2019. Tarna is a fearsome beast with a heartbeat of fire, a blazing spirit, and flaming antlers to guide your way through the darkest night. A protector of nature, she invites us into a world of wonder and fantasy.
Dress to express. Thematic inspiration: fire, electricity, and color. When in doubt, bring your best energy.
_______________________________________________________________________________________________
Ongoing EVENTS:
---

*Burner Workshops  is a monthly PWYC event that teaches on a different Burner related topic each session.
*Burner Drink Nights is a biweekly event that alternates between East and West end locations. A chance to get and stay connected with Fellow Burners in a relaxed social environment.
*Site 3 coLaboratory is a 2,000 square foot member-run makerspace in Toronto's west end. We are dedicated to making, teaching, learning and thinking about the intersection between art and technology. We make amazing things, and we teach others to make amazing things, too. MoreInfo
General Open House every Thursday 7-10
Women + LGBTQ Alliance Night. Every Tuesday 7-10
---
Other Annual Events run by people we like include:
Santarchy (December)
Urban Golf (spring / fall)
Brides of March (March)
Bunnarchy (April)
Town Hall Discussions
Art Fundraisers (ongoing)
Hyperborea
Want to get notified with occasional emails telling you what's coming up next in the community? Sign up for our newsletter at the top of the page!