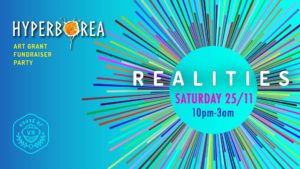 Realities: Hyperborea Art Grant Fundraiser Nov 25 10pm-3am
Tickets available HERE
House of VR and the Hyperborea Experiential Arts Team are proud to announce:
R E A L I T I E S – An Art Fundraiser Party
THEMES/ INSPIRATIONS: Realities, fantasy, utopias, dystopias, portals, dreams, travel, nightmares, other-worldly, future, past, make-believe, planetary, cosmic, etc.
Where: House of VR (639 Queen St W)
When: Sat, Nov 25th 10pm-3am
What: Come and join us to explore different realities through art, music and dance from a number of Toronto artists and DJs. Lineup to be announced soon!

Why: The inaugural Hyperborea 2017 was amazing in every way…except…WE WANT MORE ART! The Toronto Burner community showed itself that we can create our own reality, so we want to make Hyperborea even better next year. The profits from this event will go towards the Hyperborea Art Grant Fund under the newly-formed Hyperborea Experiential Arts Team (HEAT) Non-Profit Corporation.
Dress Code (WHO ARE YOU WEARING?): Dress Your Own Reality
Want to exhibit at the party?
Send us an application, and show us your version of reality! Each artist will receive an honorarium of up to $200.
*APPLICATION DEADLINE: MONDAY NOVEMBER 6*
>>>>http://bit.ly/2zAU32N<<<<<<<<
---
Ongoing EVENTS:
*Burner Workshops is a monthly PWYC event that teaches on a different Burner related topic each session.
*Burner Drink Nights is a biweekly event that alternates between East and West end locations. A chance to get and stay connected with Fellow Burners in a relaxed social environment.
*Site 3 coLaboratory is a 2,000 square foot member-run makerspace in Toronto's west end. We are dedicated to making, teaching, learning and thinking about the intersection between art and technology. We make amazing things, and we teach others to make amazing things, too. MoreInfo
General Open House every Thursday 7-10
Women + LGBTQ Alliance Night. Every Tuesday 7-10
---
Other Annual Events run by people we like include:
Santarchy (December)
Urban Golf (spring / fall)
Brides of March (March)
Bunnarchy (April)
Town Hall Discussions
Art Fundraisers (ongoing)
Want to get notified with occasional emails telling you what's coming up next in the community? Sign up for our newsletter at the top of the page!