EDEN: A Tarna + Heavy Meta Event
June 23 @ 11:00 pm

-

June 24 @ 11:00 pm
Event Navigation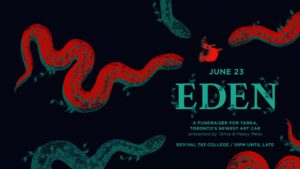 Tarna + Heavy Meta present: EDEN – June 23rd
A fundraiser for Tarna the Art Car and the Heavy Meta dragon art car
The Metaverse grows…
Toronto's newest art car is Tarna the Jackalope. She is a fearsome beast with a heartbeat of fire, a blazing spirit, and flaming antlers to guide your way through the darkest night. A protector of nature, she invites you into a world of wonder and fantasy.
The Garden before the Fall cares nothing for the chaos of the world outside. The serpent offers a choice between blissful ignorance or knowledge of good and evil. Tarna's Warriors have chosen to know the truth and fight. Let us transport you to the time and place of Original Sin – there you can make the decision yourself.
Come to us as sinful snakes, the blissfully ignorant inhabitants of the Garden, fallen angels, and mysterious creatures of the night.
Our venue, Revival Bar, is one of the most beautiful in the city. It has handsome brick walls, arched windows, and a chapel ceiling. A balcony looking out over the main floor will hold a plounge space for those looking to escape the wilderness below. Revival has made a massive recent upgrade to its sound system, bound to please even the most discerning audiophile. It is now Canada's only showcase venue for Electro-Voice's latest line array professional audio system: the X1 Advance Line Array System ( http://www.revivalbar.com/x1-advance-line-array-system/ ).
Stay tuned for updates on our DJ line-up and inspiration for your sinful Garden costumes.