Au Canada! By Midnight Poutine
June 29, 2019 @ 10:00 pm

-

June 30, 2019 @ 5:00 am
Event Navigation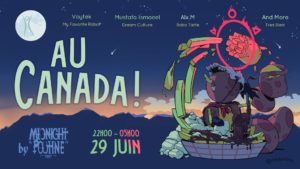 Bonjour, Toronto!
We need your help and we are coming from Montreal to get it!
This Canada Day long weekend we are welcoming guests to a Toronto fundraising party for our Burning Man camp, Midnight Poutine. Every year since 2009 we have made the 10,000 km journey to serve Canada's favourite comfort food to very hungry and eager Burners. Can you guess what time of night we we serve it at? Last year, 2000 hungry Burners got a taste of Canada and this year we want to serve even more!
We have found a raw, open space à la perfection we are eager to give a Montreal joie de vivre! Expect a lineup of Montreal-based DJs going until late with uncompromising sound quality, visuals, art, and lots of je ne sais quoi!
Please be kind and bring your own mug/cup/bottle to help us reduce waste. Merci!
The DJ List Thus Far …
Voytek [My Favourite Robot] https://soundcloud.com/myfavoriterobot
Mustafa Ismaeel [Dream Culture / Art Vibes] https://soundcloud.com/mustafaismaeelmusic
alx.m [Robo Tarte] https://soundcloud.com/alx-m
And More! Tres Bien!
Tickets Available HERE