The Ark Car & Heavy Meta present: The Flood
May 5 @ 10:00 pm

-

May 6 @ 10:00 pm
Event Navigation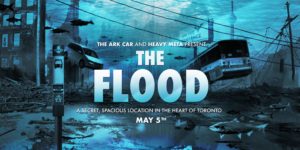 After ignoring the warnings for a century, the hubris of humanity finally led to its peril. The god of the underworld, Enki, warned the great hero Ziusudra that the gods had decided to destroy the world in a cataclysmic flood. The hero set upon building an ark that could save the chosen, and the antediluvian times came to an end. Halfway through the deluge, the ark found an outpost of survivors in the middle of the waters.
TICKETS: https://theflood.eventbrite.com/
Join Heavy Meta and The Ark in a massive, desolate, two-floor raw space in the heart of the city as we search for the mythical dry land – a futuristic kingdom populated by dragons and jackalopes.
Heavy Meta & The Ark Car present: THE FLOOD 
Saturday, May 5th at FAIRLAND, 241 Augusta Ave. Toronto
An incredible, abandoned grocery store in the heart of Kensington Market. It has only been used for an event once before, and looked vastly different. Construction will begin on this space the minute we clean up, and this is your last chance to see it before the flood washes over.
Costume suggestions: Think Waterworld wasteland scavenger, boatpunk mermaid, two of every animal.
All proceeds will benefit Heavy Meta and The Ark art cars' 2018 builds, upgrades and Hyperborea theme camps.
Lineup and details will be released soon.