Hyperborea – Azimuth
May 17 @ 12:00 pm

-

May 21 @ 12:00 pm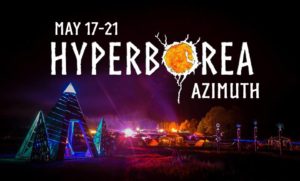 Hyperborea is excited to return for Hyperborea: Azimuth, which will be taking place May 17-21 near Tamworth, Ontario.
Hyperborea is a camping event in the Canadian Shield where like-minded people come together to radically express themselves, share their art, and embrace their better selves. We strive to be radically inclusive – all are invited! Whether you've been to Burning Man a hundred times or have no idea who we are – we'd love to welcome you into our community.
We support radical self-reliance and leaving no trace. That means there are no facilities on-site, so bring your own food, water, shelter and supplies for the weekend. If you pack something in, make sure you have space to pack it out with you too. 
This event runs in accordance to the 10 Principles of Burning Man – along with our Canadian flavouring, which makes for a gathering unlike any other.
http://burningman.org/culture/philosophical-center/10-principles/
What's in a name?
Hyperborea comes from Greek mythology, the city of plenty beyond the northern winds. Come join us to explore the subject of making new things, discovering new worlds, and forging into the great unknown.
Azimuth is the angle that travellers use to align themselves with true north. For us Hyperboreans, the
Azimuth represents our compass. It guides us when we are lost; it orients us when we cannot see the path.
Make sure to stay up to date with Hyperborea developments by:
Signing up for our mailing list – tohyperborea.ca/newsletter
Joining our FB group – facebook.com/groups/to.hyperborea
Checking out our Website – tohyperborea.ca